Does any of this sound familiar?
You regularly experience
anxiety
.
You often feel
irritated
or short-tempered.
You are
forgetful
and have trouble staying focused.
You feel guilty because you are a
distracted
friend, partner, parent, coworker.
Yes? You're in the right place!
In under ten minutes a day,
you will learn how to feel more present and relaxed in your body and mind through a variety of meditation techniques such as mindfulness, pranayama (breathing exercises), visualization and more. Each day there will be a new short guided meditation video with additional resources.
After this course, you...
...will find it
easier to work
on a task without getting distracted.


...will be
more patient
and compassionate when things don't go your way.


...will have the ability to
stay focused
.


...you can be
more present
with the people around you because you feel more present and relaxed in your body.
See what students are saying...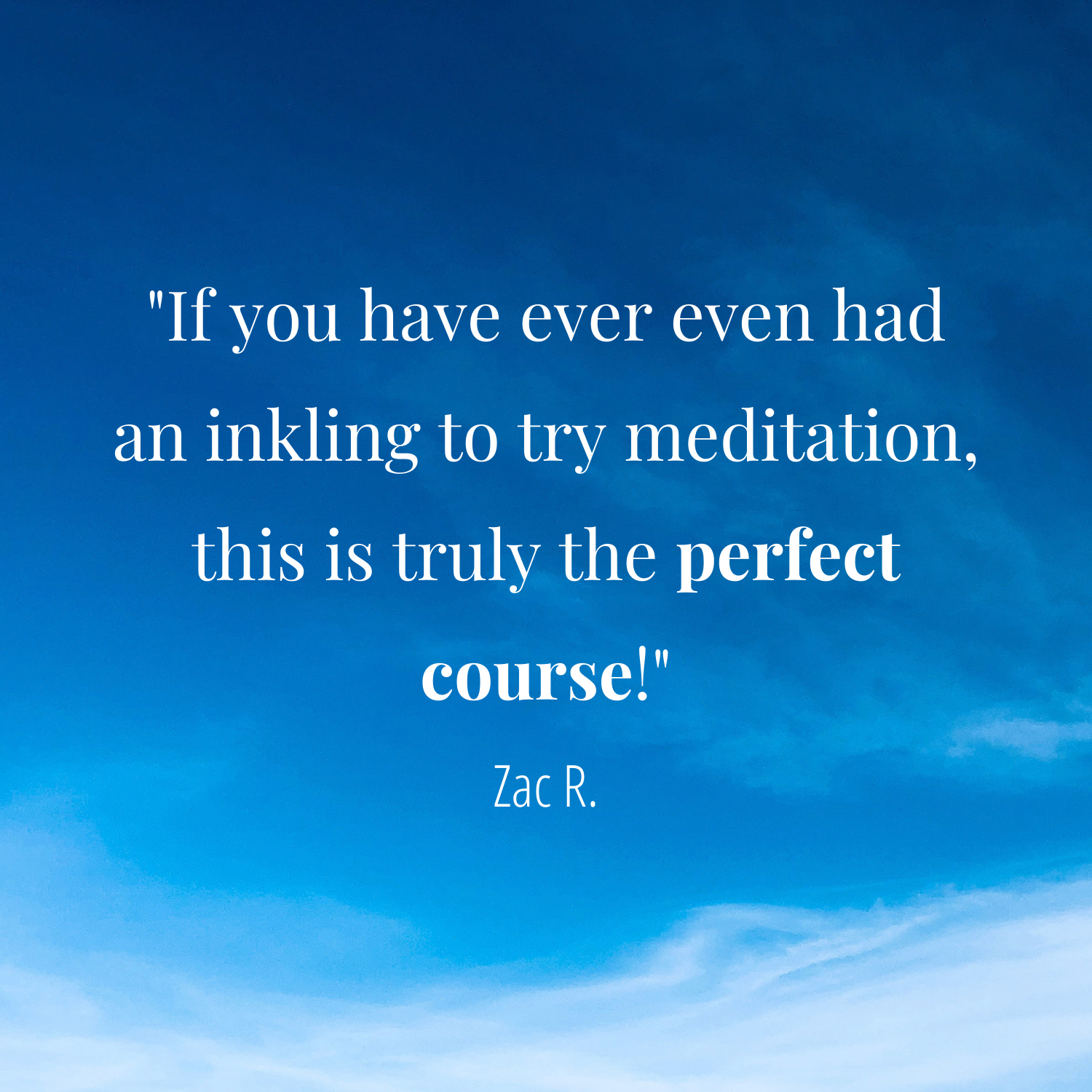 "If you have ever even had an inkling to try meditation, this is truly the perfect course! Casey is outstanding and gently guides you through 21 days of meditation; encouraging and challenging you to try a variety of techniques with grace and curiosity. The videos plus all the extra resources are so thoughtfully curated and provide extra depth and learning. If you are like me and sometimes need a lot of structure and accountability to try something new then this is the course you need. I cannot recommend it highly enough!"
- Zac R.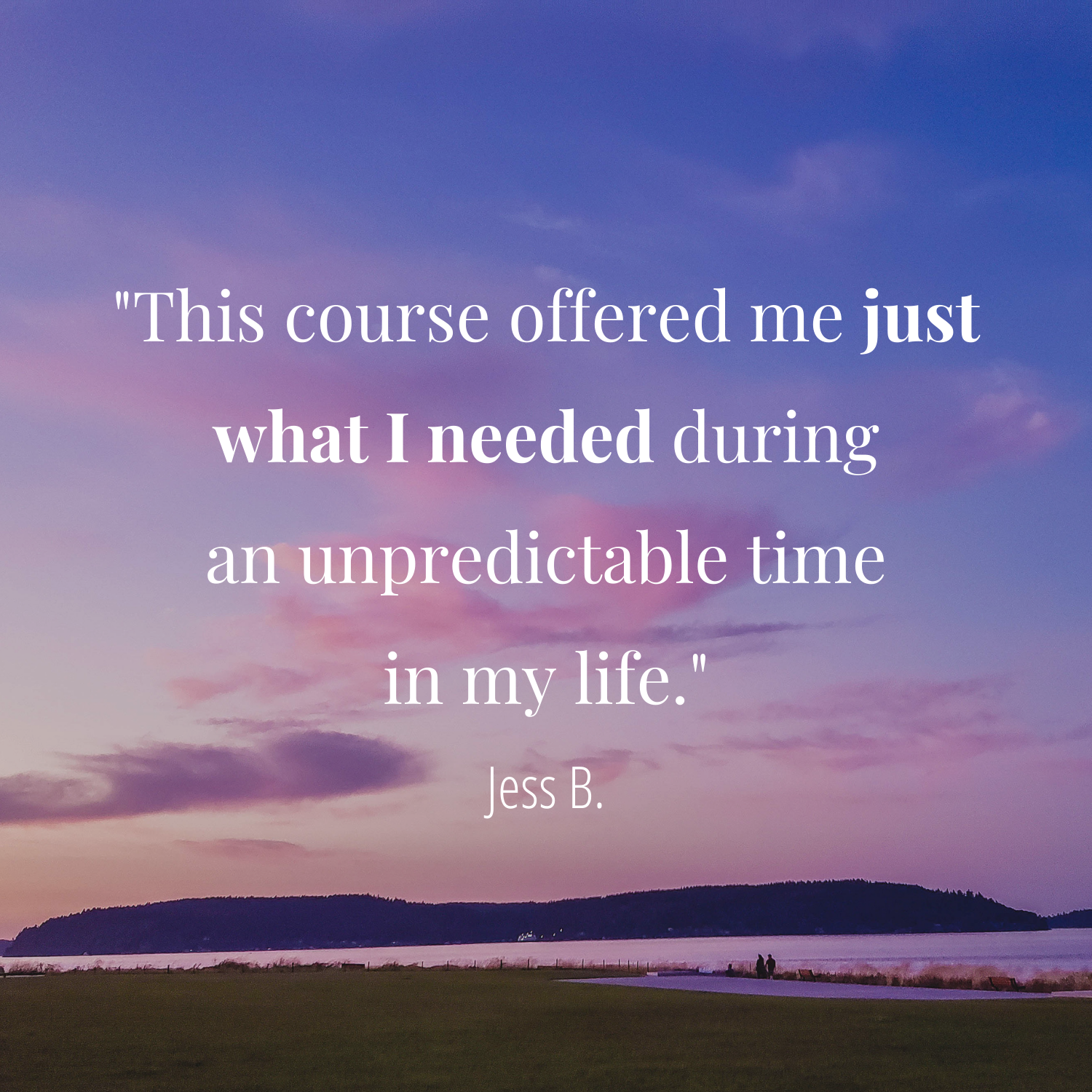 "This course offered me just what I needed during an unpredictable time in my life. The variety of ways to meditate presented in the course helped me to pinpoint the methods that work best for me and I can return to them whenever I want. I was able to build a healthy meditation habit that I look forward to each day."
- Jess B.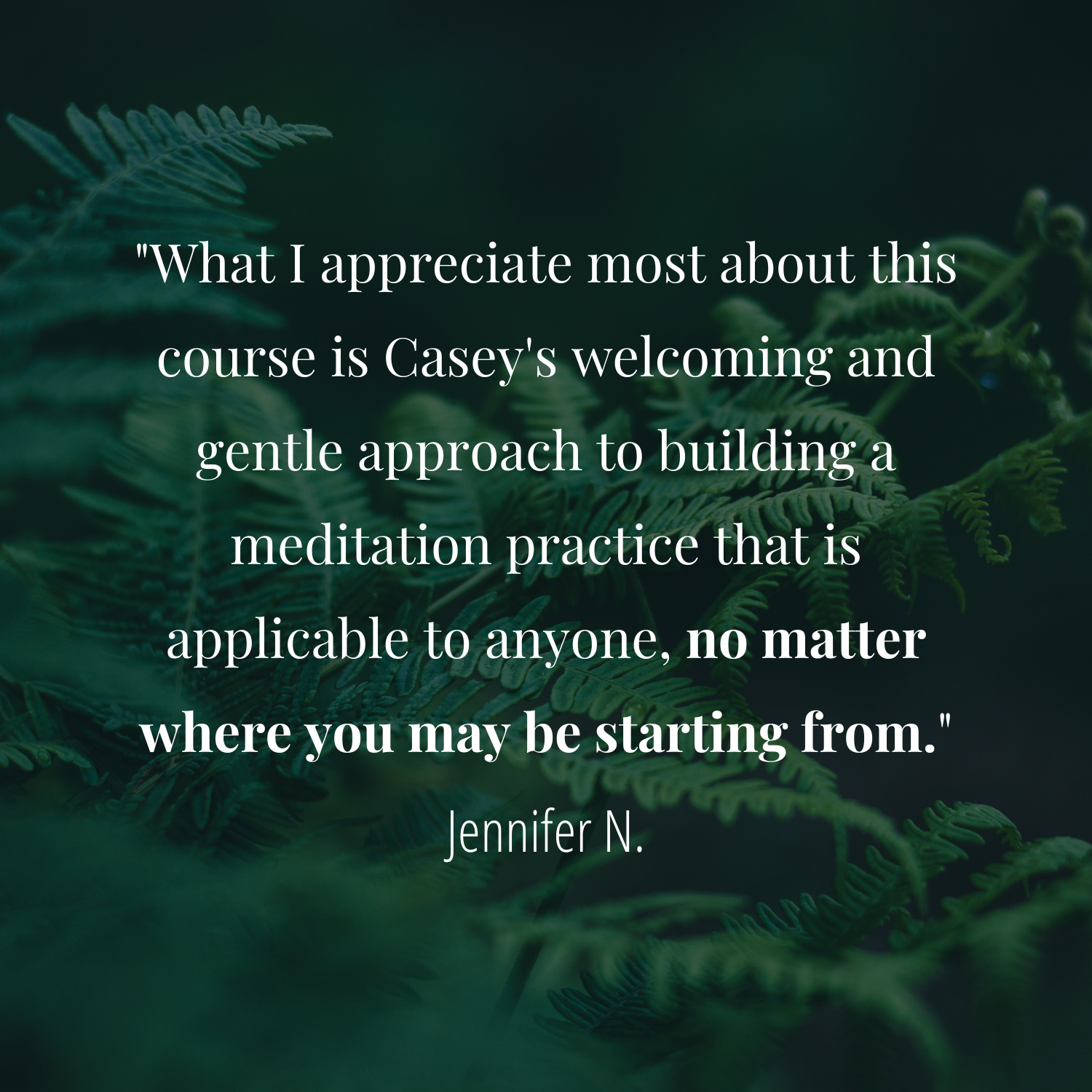 "Yoga Wild's How to Meditate for Beginners course provided me with simple, practical, and impactful ways to build a daily meditation practice. What I appreciate most about this course is Casey's welcoming and gentle approach to building a meditation practice that is applicable to anyone, no matter where you may be starting from. Through the 21 day course, I was able to try out many different meditation techniques, learn about additional resources and readings, and slowly incorporate learnings into my daily routine. While meditation practice used to be intimidating to me (I could barely make it through the first 5-minute seated meditation) after this course I feel more knowledgeable and confident in applying these practices throughout my day to promote calm and mindfulness."
- Jennifer N.
Course Curriculum
This is what your course will look like as soon as you enroll. A new video lesson + resource(s) will become available each day.
Follow along daily or work at your own pace. All of these lessons live on your Teachable dashboard forever.
Each day includes:
1 video guided meditation
1 downloadable audio-only version of the video
at least 1 resource for diving deeper
Hi, I'm Casey
Pronouns: she/her
I began practicing yoga in 2000, teaching in 2012 and co-founded Yoga Wild in 2018. Yoga has had a huge impact on my life (how I parent, how I engage with my community, how I interact with nature) but I was disappointed in the typical studio approach to marketing and teaching yoga.
I am passionate about making yoga accessible and inclusive. I teach yoga of discernment, encouraging students to make choices that are right for them.
Early in my yoga journey, I found meditation very intimidating and challenging. I preferred guided classes because it eased some of my anxiety and resistance. It wasn't until after having kids that I realized how important it was for me to incorporate a daily meditation practice.
When I didn't take a little time for my practice I was more reactive, less patient, and easily triggered.
I created this course to present a variety of meditation techniques and options because every day is different. What you need or what you are being challenged by will be different. 
Gift this course —
buy a gift certificate now and the gift receiver can enroll anytime!
Each gift certificate will include a special link that will allow the person redeeming the gift to enroll anytime, even after the enrollment window closes to the public.
Delivery options: Shipping (printed on premium paper with gift envelope included) or digital download.
Payment Options
Question? Email us at [email protected] and we'll respond asap.
$219
Community | Using a $30 Scholarship
The Community option is a reduced price made possible by the contributions of the Supporter tier.
$249
Sustainer | Paying for the Course
The Sustainer option pays for you.
OR
$83/month for 3 months
Sustainer Payment Plan | Paying for the Course over 3 Months 
$279
Supporter | Paying for the Course + $30 Scholarship
The Supporter option pays for you and contributes to others in the community. 
FAQs
Don't see an answer to your question here? Email us at [email protected] and we'll respond asap.
What if I miss a day or fall behind?
That's okay! Life will happen, interruptions or distractions will happen. Just start where you left off and keep going.
When is the content available?
The Getting Started section is available immediately. A new lesson is available each day at 5:00 pm PST.
How long do I have access to the course?
Forever! The course will live in your Teachable account in its entirety for you to revisit anytime.
Will this work on my phone?
Yes! This course is fully responsive on mobile devices. Just login from your mobile web browser — no app needed.
What if I'm unhappy with the course?
We offer a 7-day, no-questions-asked, money-back guarantee. Simply email us within 7 days of your purchase date at [email protected] and we'll issue a full refund.
Enrollment is open Dec 14-18!
If you gift this course, the person receiving the gift certificate will have a special code allowing them to enroll anytime — even after 12/18.